About
Written by the famous Monique of Curves and Chaos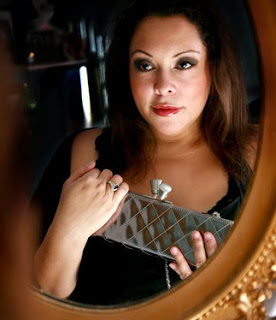 Model, editor, writer, mother, wife, actress, salsa dancer, motivational speaker, and gardening guru; meet your modern day super woman, Olga Gonzalez-Ramos.
Born in Jersey City, New Jersey, this only child was an avid book reader. She even started a "Dear Diary" journal at the age of eight. This started her love affair with writing.
Today she is an editor of Daily Venus Diva, the Plus Size Lifestyle Magazine, Olga writes on a variety of topics, including the "Ask Olga" column. Have a life problem? She's here to give you advice.
With her job at Daily Venus Diva she wanted to "create a haven and space for plus-size women displaced in a world bombarded with unrealistic expectations of what women are suppose to look like." Her self-professed mission has been "to remove blinding aspects of full figure girls who believe they are predisposed towards a unhealthy lifestyle by creating a positive outlook and agenda on being plus-size."
Olga started her blooming modeling career a little later than most models, but that hasn't stopped her. She's been featured in Marie Claire, All You Magazine, Figure and BUST to name a few. And she has many projects in the works. I look forward to seeing what she accomplishes in the future.
Fore more on Olga find her at her site www.olgaplusmodel.com
Share this:
Facebook
Email
Print
Twitter
Digg
EMAIL SUBSCRIPTION
Enter your email address to subscribe to this blog and receive notifications of new posts by email.
Join 2,367 other followers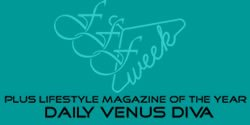 BLOGROLL
* Daily Venus Diva Magazine *
Just As Beautiful Magazine
Latina Bloggers Connect
NGLC
UrbanoTV
LATEST TWEETS
Yummy instagr.am/p/Vxs_9sEd0c/ 9 hours ago
The Program.. instagr.am/p/VxrDzJEdxr/ 9 hours ago
Autumn & I…rocking our curves.. instagr.am/p/Vxp2X7Ed_v/ 9 hours ago
NYFW/Just Ramona instagr.am/p/VxU4YFEd2C/ 12 hours ago
Daily Venus Diva Mag Poet & Model Tavy Day: "Do what you love, No pass, No fail, Just passion" ow.ly/2uTSmL 18 hours ago
Daily Venus Diva Mag Yo! Brunch hosts Fashion Diversity: Innovative Integration to Curvy Cheers ow.ly/2uTOZs 19 hours ago
Daily Venus Diva Mag Nine Ways to Strengthen Your Marriage on Valentine's Day and Every Day ow.ly/2uStLt 1 day ago
Happy V day to me…thanks djlos1582 !! Love ya instagr.am/p/VtizWfEdzd/ 1 day ago
Early Valentine!! instagr.am/p/VsL_ReEd3S/ 2 days ago
Daily Venus Diva Mag Unconventionally Curvy: Brittany Howard of Alabama Shakes ow.ly/2uR0yh 2 days ago
LATEST BLOGS