MEDIA

Interview provided by Latina celebrity blogger, Tina Sanchez of FullyChic.com

Spotlight: Curvaciously Yours- Olga Gonzalez-Ramos
In the fast pace world of fashion and entertainment one minute you're hot the next you're not; through out the years one  indiviual amongst the plus size industry has stayed hot;  my friend  Curvaciously yours-Olga Gonzalez-Ramos. Olga, is a multi-dimensional woman a model, editor, actress, journalist, Latina blogger and spokesperson to name a few but overall an amazing mother and wife.  She started as a plus-size model and ventured into writing for publications as Parle, Just As Beautiful, and Celebrityitis Magazine creating a huge following for her column "Ask Olga" as well as maintaining to be the Lifestyle Editor of Daily Venus Magazine.  Through out the  years Olga's writing and modeling have opened paths for her career by collaborating with mainstream media staples such Marie Claire, Tribeca Films, and Dove to name a few.  Along her journey, she has opened many pathways for many others in the plus size industry.  This Latina powerhouse continues to keep pushing her limits and next month she will be attending the New Generation Latino Consortium (NGLC) an event focusing on Latino media, marketing and entertainment. Olga holds the distinguished honor of being the  plus-size representative at NGLC but she will be amongst great company, actress Rosie Perez and actor Tony Plana where they will discuss topics dealing with Latino media, marketing and entertainment industry.
Follow Curvaciously yours, Olga Gonzalez-Ramos on twitter @olgaplusmodel for further information visit www.olgaplusmodel.com
If you want to suggest another candidate for the spotlight feature contact me at [email protected]
xxoo
FullyChic
Share this:
Facebook
Email
Print
Twitter
Digg
EMAIL SUBSCRIPTION
Enter your email address to subscribe to this blog and receive notifications of new posts by email.
Join 2,367 other followers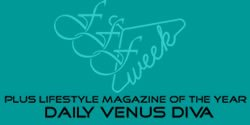 BLOGROLL
* Daily Venus Diva Magazine *
Just As Beautiful Magazine
Latina Bloggers Connect
NGLC
UrbanoTV
LATEST TWEETS
Yummy instagr.am/p/Vxs_9sEd0c/ 9 hours ago
The Program.. instagr.am/p/VxrDzJEdxr/ 9 hours ago
Autumn & I…rocking our curves.. instagr.am/p/Vxp2X7Ed_v/ 9 hours ago
NYFW/Just Ramona instagr.am/p/VxU4YFEd2C/ 12 hours ago
Daily Venus Diva Mag Poet & Model Tavy Day: "Do what you love, No pass, No fail, Just passion" ow.ly/2uTSmL 18 hours ago
Daily Venus Diva Mag Yo! Brunch hosts Fashion Diversity: Innovative Integration to Curvy Cheers ow.ly/2uTOZs 19 hours ago
Daily Venus Diva Mag Nine Ways to Strengthen Your Marriage on Valentine's Day and Every Day ow.ly/2uStLt 1 day ago
Happy V day to me…thanks djlos1582 !! Love ya instagr.am/p/VtizWfEdzd/ 1 day ago
Early Valentine!! instagr.am/p/VsL_ReEd3S/ 2 days ago
Daily Venus Diva Mag Unconventionally Curvy: Brittany Howard of Alabama Shakes ow.ly/2uR0yh 2 days ago
LATEST BLOGS