Dear Olga'
Dear Olga or Ask Olga as many like to call it is an advice column that fits every curvy girls need. It started when Olga was getting over 50 emails from Daily Venus Diva readers. She has found a way to share her story, joys and let downs in her life and in this industry. She is known by many as the heart and soul of the magazine. She gives detail feedback to each and every letter.
Start reading..learn, cry, laugh and most important enjoy..
Recent 'Dear Olga' columns http://dailyvenusdiva.com/category/blogs/dear-olga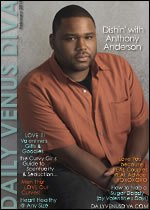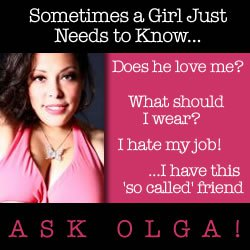 Got that question…for Olga click here to reach her http://dailyvenusdiva.com/about/ask-olga
'Dear Olga' is also being celebrated in the #1 UK plus size lifestyle publication, 'Just As Beautiful' magazine. Every 'Dear Olga' being used is a different letter so you will never get to read the same thing twice providing her readers/fans with top advice fresh from the heart.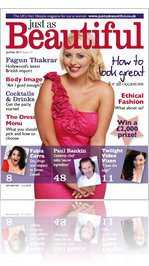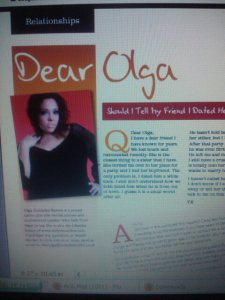 EMAIL SUBSCRIPTION
Enter your email address to subscribe to this blog and receive notifications of new posts by email.
Join 2,367 other followers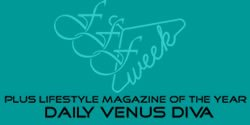 BLOGROLL
* Daily Venus Diva Magazine *
Just As Beautiful Magazine
Latina Bloggers Connect
NGLC
UrbanoTV
LATEST TWEETS
Yummy instagr.am/p/Vxs_9sEd0c/ 9 hours ago
The Program.. instagr.am/p/VxrDzJEdxr/ 9 hours ago
Autumn & I…rocking our curves.. instagr.am/p/Vxp2X7Ed_v/ 9 hours ago
NYFW/Just Ramona instagr.am/p/VxU4YFEd2C/ 12 hours ago
Daily Venus Diva Mag Poet & Model Tavy Day: "Do what you love, No pass, No fail, Just passion" ow.ly/2uTSmL 18 hours ago
Daily Venus Diva Mag Yo! Brunch hosts Fashion Diversity: Innovative Integration to Curvy Cheers ow.ly/2uTOZs 19 hours ago
Daily Venus Diva Mag Nine Ways to Strengthen Your Marriage on Valentine's Day and Every Day ow.ly/2uStLt 1 day ago
Happy V day to me…thanks djlos1582 !! Love ya instagr.am/p/VtizWfEdzd/ 1 day ago
Early Valentine!! instagr.am/p/VsL_ReEd3S/ 2 days ago
Daily Venus Diva Mag Unconventionally Curvy: Brittany Howard of Alabama Shakes ow.ly/2uR0yh 2 days ago
LATEST BLOGS